Creed 2 Review
Intro
Creed (2015) successfully breathes new life into the long running Rocky-franchise. It honored what came before while making way for a bright future. Creed II continues the story of Adonis Creed and his mentor Rocky Balboa, as they face off against a familiar foe. Find out in this Creed 2 review if the movie packs a punch. 
Positive
Upcoming director Steven Caple Jr does a good job at capturing the tone and feel of the first Creed. The boxing matches are exiting to watch and he finds some unique ways to move the camera around, making you feel like you are inside the ring with Creed and Drago. Like its predecessor, its the acting that carries Creed II over the finish line.
Michael B. Jordan gets to dig deep into his role as Adonis Creed, because this time its personal for his character. Here he stands against Viktor Drago, the son of the man that killed his father, Apollo Creed, all those years ago. It's precisely for this reason that Creed's mentor, Rocky Balboa, is heavily against the fight. Stallone gives a more nuanced performance and shines in some dramatic scènes opposite Jordan. The mentor/student relationship goes a step further in this one, and its easily the best part of the movie.
Director Steven Caple Jr. and music composer Ludwig Göransson also create one of the best montage scènes of the franchise. This, almost six minute long, montage features the music track 'Runnin', from the Creed II soundtrack and gets y0u pumped up and ready to rumble! In term of acting, directing, drama and music this sequel hits all the right notes.
Negative
Creed II features all the regular tropes and familiar story beats that we have seen before in the Rocky-franchise. This sequel has no surprises or an ending that nobody saw coming, but then again, the fun of these movies is not to mess to much with the formula. Overall, Creed II falls a little short in comparison to its predecessor, but not by much.
Conclusion
Creed II is a great sequel that continues the franchise in a dramatic way, while also serving as a beautiful ending to the stories of Adonis Creed and Rocky Balboa. Don't keep on milking these movies for what its worth. This sequel gives both characters the respectful sendoffs they deserve.
Creed 2 – 7.5/10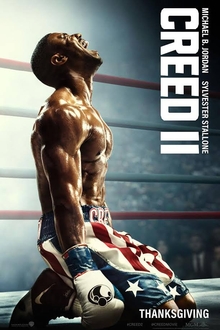 MOVIE DETAILS
Directed by: Steven Caple Jr.

Starring: Michael B. Jordan, Sylvester Stallone, Tessa Thompson, Phylicia Rashad, Andre Ward, Florian Munteanu, Wood Harris, Dolph Lundgren, Russel Hornsby.

Release Date: November 21, 2018 (USA)

Running time: 130 minutes. 

Genre: Drama, Sports, Boxing.

Music by: Ludwig Göransson.

Production Company: Metro-Goldwyn-Mayer, New Line Cinema & Warner Bros Pictures. 

Distributed by: Warner Bros. Pictures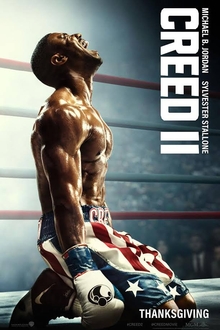 MOVIE DETAILS
Directed by: Steven Caple Jr.

Starring: Michael B. Jordan, Sylvester Stallone, Tessa Thompson, Phylicia Rashad, Andre Ward, Florian Munteanu, Wood Harris, Dolph Lundgren, Russel Hornsby.

Release Date: November 21, 2018 (USA)

Running time: 130 minutes. 

Genre: Drama, Sports, Boxing.

Music by: Ludwig Göransson.

Production Company: Metro-Goldwyn-Mayer, New Line Cinema & Warner Bros Pictures. 

Distributed by: Warner Bros. Pictures